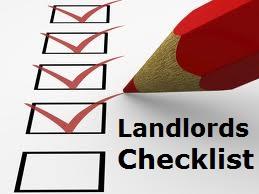 Renting out your property can sometimes be time-consuming and potentially stressful, so we have put together a list of handy hints and suggestions to help the process run smoothly. After you have obtained your appropriate buy to let mortgage/ permission to rent, and the relevant building and contents insurance, you will need to look into arranging the following checks and installations prior to any tenancy commencing:

What you must have:
• All rental properties require an Energy Performance Certificate before they can be marketed. This Certificate gives a rating for energy efficiency, issues information about a property's energy usage and estimated costing, and makes recommendations of what you could do to improve the energy efficiency. The report is valid for ten years. We can book this with one of our contractors for a very reasonable rate if you need us to. For more information regarding EPCs, please visit the following site: https://www.epcregister.com/home.html
• Is there a gas supply at your property? If so, it's an essential legal requirement that you have the gas appliances checked for safety annually and a valid Gas Safety Record issued. We can book this with one of our contractors for a very reasonable rate if you need us to.
• You must ensure all electrical equipment is safe to use; we can arrange an Electrical Installation Condition Report to check the fittings if you do not have a supplier. This report is valid for five years. Please see the following link for more information:
http://www.hse.gov.uk/electricity/maintenance/safety.htm
• Smoke alarms are a legal requirement in rental properties as of October 2015, and there must be a working smoke alarm on each floor of the premises you are renting out before tenants move in. We ask our inventory clerk to test these at check in and check out, and the tenants are liable for testing during their tenancy and replacing batteries etc.
• CO detectors are a legal requirement as of October 2015 (for properties which have solid fuel burning appliances only – one per room with appliance. Information on Smoke Alarms and CO detectors can be found at this link:
http://www.rla.org.uk/landlord/guides/carbon-monoxide-requirements.shtml
• Legionella risk assessment – the Health and Safety Executive site (link below) states that "If you are an employer, or someone in control of premises, including landlords, you must understand the health risks associated with legionella." More details are available at the following link and we can schedule this to take place very inexpensively before anyone moves in if you are unable to organise it personally: http://www.hse.gov.uk/legionnaires/what-you-must-do.htm

There are various other items which it is good practise to have for your rental property (we feel a professional inventory is essential to help you at deposit time, for example) but for more information regarding these items or if you are thinking of becoming a landlord, please don't hesitate to get in touch on 020 8704 1313 or
lettings@chamberlandres.co.uk so we can have an informal, no obligation discussion on the market and what else is required.